MAAM EXHIBITS
See the eWalk in the footprints of African Americans in Minnesota and the Midwest …
MAAM TRUNK-IT SERIES
Trunk-It is history in a trunk, a museum without walls. These exhibits are accompanied by trained actors/docents …
African American Folktales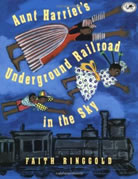 Immerse yourself in tales from "Aunt Harriet's Underground Railroad in the Sky" by Faith Ringgold, Ethiopian royal princess "Aida" as told by soprano Leontyne Price, Eula Mae's neighborhood in "Chicken Sunday" by Patricia Polacco and more.
Kids and adults alike will find adventure in these folktales and the accompanying giant digital Smart Board, life-sized books with walk-through pages and innovative technology. Learn about African American history while you play.
For more information on visiting MAAM, including hours and location, click here.
Have questions? Click here, they're happy to help.
If you're interested in making a donation to MAAM,