MAAM EXHIBITS
See the eWalk in the footprints of African Americans in Minnesota and the Midwest …
MAAM TRUNK-IT SERIES
Trunk-It is history in a trunk, a museum without walls. These exhibits are accompanied by trained actors/docents …
Black Baseball
Did you know baseball had a long history of African American players before legend Jackie Robinson ever hit the field? Explore the story of "Negro League" baseball and Minnesota's many surprising contributions to baseball's rich history.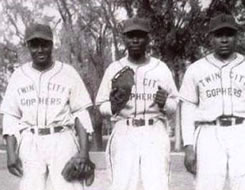 From John W. "Bud" Fowler, who played in the Stillwater baseball club in 1884 to hometown hero Kirby Puckett – MAAM follows the players, the owners, the fans and baseball's place in the Civil Rights movement.
Think you know baseball? You'll be surprised by the sport's virtually hidden history as it's revealed in the Black Baseball exhibit.
"Bring it Home "Black baseball in Minnesota: recovering a little known lost legacy
Though Minnesota never hosted a major Negro League ball club, and was home to a decidedly small black population, the history of touring "barnstorming" black baseball teams in Minnesota is as rich as anywhere in America. From the late 1800's to the late 1940's, teams such as the Colored Gophers captivated fans of all colors. The inagural exhibition at the Minnesota African American museum will Prior to the integration of baseball, the separate leagues provided American blacks with successful businesses and provided employment to many African Americans both on and off the field. Most of the teams were owned by local black businessmen. The Leagues (including their minor affiliates), termed the largest black-owned business in the United States, offered employment to hundreds of blacks throughout the country.
Check out these other sites for more information on Black and Brown Baseball!
Baseball, the Color Line, and Jackie Robinson
Civil Rights History: Before You Could Say "Jackie Robinson"
Negro League Baseball Players Association
MLB.com: Negro Leagues History
A Look at Life in the Negro Leagues
Cubans and the Negro Leagues Cubanball.com
National Baseball Hall of Fame and Museum
Center for Negro Leagues Baseball Research